Welcome to Ladi Em's Coffin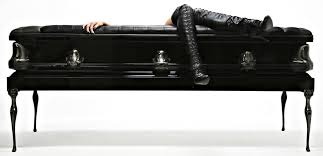 Looking for the best items for all your Vampire / Vampyre needs? Look no further than Ladi Em's Coffin.
​ Your place for all things Vampyre. Shop a store that is not just for Vampyres, its owned by one.
Payment Methods
Ladi Em's Coffin currently accepts MasterCard, Visa, Discover, Money Orders, and Paypal payments, as well as Personal Checks (held for 2 weeks to clear). Checks must be mailed into Ladi Em's Coffin along with order and after check has cleared your order will be processed.

Sales Tax
Ladi Em's Coffin is required to charge Texas sales tax on orders to be delivered to addresses within the State of Texas. The customer is solely responsible for all sales tax (or other taxation) on orders shipped to any other state..

Order Acceptance Policy
Ladi Em's Coffin reserves the right to accept or decline your order for any reason. We also reserve the right to alter the price of all items we carry at any time, as stated by our policy: Prices subject to change without notice.
Typographical Errors
In the event a product is listed at an incorrect price or with incorrect information due to typographical error, error in pricing, product information received from our suppliers, etc., Ladi Em's Coffin will attempt to contact you by phone or email before canceling the order or item that is incorrect.

Information on our web site is updated daily and will always be the most current information available.
Price Changes
Prices are subject to change without notice. The prices listed on our website will be the most accurate and up to date. Be sure to keep an eye on the "Whats New" category of our website, as we constantly bring in new items to replace those we have discontinued.

Back Order Policy
When any item is put on backorder at Ladi Em's Coffin , we will ship it out to you as soon as it comes in. However if the value of the merchandise is under $5.00 we will cancel the missing item from your order and indicate on the invoice when we expect the item to be available for reorder.

Return Policy:
Returns
If you want to return a product to
Ladi Em's Coffin
you must contact us within 30 days of receipt by emailing shipping.ladiem@yahoo.com or by calling us at 832-228-0819. Returns must be unopened, unused and undamaged. You must have the original invoice number to refer to. Returns may be subject to a 10% restocking fee.

Due to the increase in shipping costs we reserve the right to bill your account for all shipping fees billed to us due to a package being returned or refused without prior approval.

Damages:
If you are missing any merchandise from your order, or have received damaged items, put the package aside and contact us within 10 days so we may get the issue resolved in a timely manner. Ladi Em's Coffin will, upon your request, replace any merchandise that is received in damaged condition or as a result of a picking error. No merchandise will be accepted or replacements issued without prior approval to return such merchandise. Filing of damage claims or missing package claims with the shipping provider (UPS, US Postal Service, Fed Ex, Etc…) will be the responsibility of Ladi Em's Coffin .

Privacy Policy
Ladi Em's Coffin does not share customer information including emails, phone numbers, or postal mail addresses with anyone. It is not our policy to spam your email address, nor do we send unwanted postal mail. Any batch emails sent out will be only to notify customers of new or sale items as well as special offers and sales. At any time, a customer may opt out of receiving such emails


All items sold and distributed by
Ladi Em's Coffin
are legal for sale and distribution
.
However, it is the responsibility of all customers to understand local, regional, and national laws pertaining to the items they purchase, and purchasers are solely responsible for packages lost or destroyed, or any legal action resulting from the purchase of the items that are illegal in their particular country or region.

Shipping Policies
Ladi Em's Coffin ships via the US postal service and UPS. Exact methods will vary based upon the availability of these services and what is offered to your location, and will be offered at the time of your purchase via the online shopping cart.
Most orders will be orders ship within 24 business
hours, if items are available, and you are unable to make changes to an order once it has been packaged. Orders cannot be canceled once they have been shipped. You may however refuse the package, and upon its return receipt we will credit you for the merchandise. Shipping fees will still apply.

Shipping is FREE if you live in the Spring / North Houston and surrounding areas, and you choose pick up. You must contact Ladi Em's Coffin at 832-228-0819 to schedule your pick up.
Should be participating in local meet & greets you can also choose pick up shipping and specify with note to seller which group you are apart of. Ladi Em's Coffin will deliver your item to meet and greet for free. ​​​​

USPS orders
Please note that orders shipped via the US postal service ship within 48 hours. These orders are picked up weekday mornings immediately following the day that the order was processed and packaged. This may result in postal orders placed on Friday not being picked up by the USPS until Monday morning, barring holidays or delays