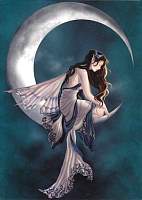 The Moon is the most important heavenly body to Witches. The moon is female and is always changing through cycles...



*

New Moon Magic *
New Moon, or Dark Moon is when the moon is directly between the Earth and the Sun and is hidden. New Moon workings can be done from the day of the new moon to three-and-a-half days after. The new moon is for

starting new ventures, new beginnings. Also love and romance, health or job hunting.



​* Waxing Moon Magic *
This represents the Goddess in her Maiden aspect. The Waxing moon with when the moon is getting larger. Making Its way from New Moon to Full Moon. The waxing moon is for magick to bring things to you, attract or positive change, such as love, wealth, success, courage, friendship, luck and health.

* Full Moon Magic *
This is the representation of the Goddess in her Mother aspect. Prime time for rituals for prophecy, protection, divination. Any working that needs extra power, such as help finding a new job or healing for serious conditions, can be done now. Also, love, knowledge, legal undertakings, money and dreams. Great time for spells that transform, increase phychic ability and fertility. This is a time for Strength Love and Power.

* Waning Moon Magic *
Waning Moon is when the Moon is decreasing and going from Full Moon to New Moon. At this time the Moon represents the Goddess in her Crone phase. The waning moon is used for banishing magic, for ridding oneself of addictions, illness or negativity. Also a good time to end bad relationships. This is a great time for deep intuition and divination.

* Dark Moon Magic *
From ten-and-a-half to fourteen days after the full moon. The dark moon is a time for ridding oneself of bad habits, Binding spells, for exploring our darkest recesses and understanding our angers and passions. Also bringing justice to bear.

* Blue Moon Magic *
This is the second full Moon in one single calendar month. ​ It has the same aspects of the Full Moon, but its an extra special time.
​
​​
Monthly Full Moon Names
(Wiccan Tradition 1953-1956​)
​
January =
​February =
​March =
April =
May =
June =
July =
​August =
​September =
​October =
November =
​December = ​
Cold Moon
Quickening Moon
Storm Moon
Wind Moon
Flower Moon
Sun Moon
Blessing Moon
Corn Moon
​​​​​​​​Harvest Moon
Blood Moon
Mourning Moon
Long Nights Moon
Monthly Full Moon Names


(Deborean Clan (1780-1800)​


​
January =
​February =
​March =
April =
May =
June =
July =
​August =
​September =
​October =
November =
​December = ​
Wolf Moon
Snow Moon
Worm Moon
Rain Moon
Flower Moon
Starwberry Moon
Deer Moon
Fish Moon
Fruit Moon
Harvest Moon
Hunter Moon
​​​Cold Moon
Hunger Moon
Snow Moon
Sap Moon
Pink Moon
Flower Moon
Rose Moon
Buck Moon
Sturgeon Moon
​​​​​​​​Corn Moon
Hunter Moon
Beaver Moon
Cold Moon
Monthly Full Moon Names
(farmers almanac(1792)​
​
January =
​February =
​March =
April =
May =
June =
July =
​August =
​September =
​October =
November =
​December = ​